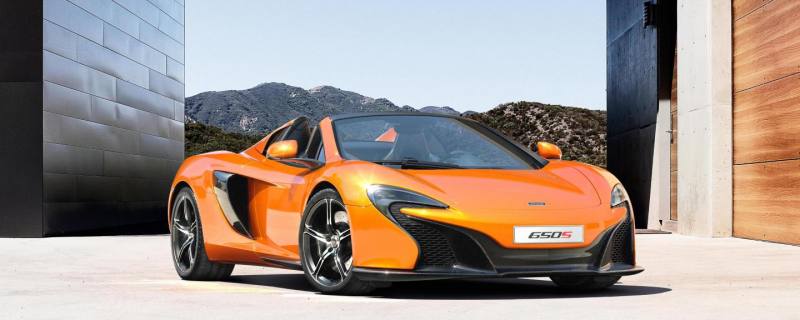 Mclaren 650S
The reviews thus far have been outstanding. This model has everything lacking in the 12C including bigger rads, new V8 heads, cams, pistons and a modified chassis.  The 650S delivers 500 lbs of torque and 650bhp and standard carbon-ceramic brakes.
Performance
The mid-range turbo'd torque accelerates performance far beyond any other car including the Ferrari and Lambo and reaches nearly 8500rpms. The excelling speed is only slightly overshadowed by the unmatched balance and responsiveness due to the chassis. Chassis parameters can be fine-tuned by dashboard accessories along with the powertrain. The roll control system is exquisite and unique to this model. When suited- you can engage the track mode which provides tighter control of the body.
The interior is as plush as any luxury car with superior visibility. The 650S is available in coupe or Spider styles each with customizable options. Both are more powerful than the 12C and more focused on performance.
The spider is all hand assembled parts specifically designed for this model, including the LEDs lighting up the logo. The spider has a lightweight retractable hardtop that transforms the riding experience into a dream. The spider has enormous headroom, and it rides like an expensive limo. The V8 twin turbo engine launches the vehicle to over 60 mph in 3 seconds, now that's fast.
Mclaren creates miracles and then limits the availability by producing only a select number of them. The controlled production increases the monetary value, and the true warriors desire to own one. The spider was inspired by nature, per the designer, and it shows. It is clean, lean and fast with a top speed of 204mph/329kph. It brings 678NM torque and 650ps power with 8500rpm max. It's a mean, lean machine that any upstanding car lover would want. Only few can afford them, but just for fun, go to the Mclaren configurator and design your dream car.