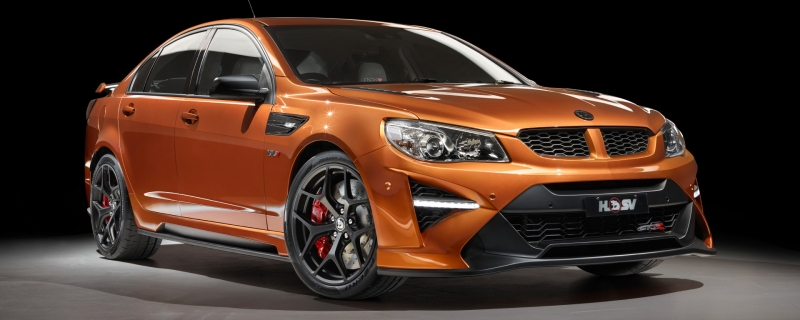 The HSV GTSR W1 is one of those rare automobiles that combine luxury and speed in one incredible package. The distinctive sophistication is nearly overwhelming… and that's just from looking at it.
The Exterior
The high-performance silhouette is accentuated by the phantom black roof and perfectly accomplished rear carbon fibre rear spoiler. The LED running lamps and tail lights are an added exuberance limited to the most special automobiles.  Included is a weather shield car cover denoted to each vehicle with a numbered identification.
The Interior
The interior is just as magnificent.  Podium style seating and a multifunctional steering wheel trimmed in Alcantara that mimics fine suede is the first hint of the luxury level.  Satellite navigation, voice-controlled phones, and the sound system are all contained on the steering wheel for safety and convenience. The head- up display posts important information on the windscreen for quick and easy access. Heck, everything that can be automatic is, including the rain sensing wipers.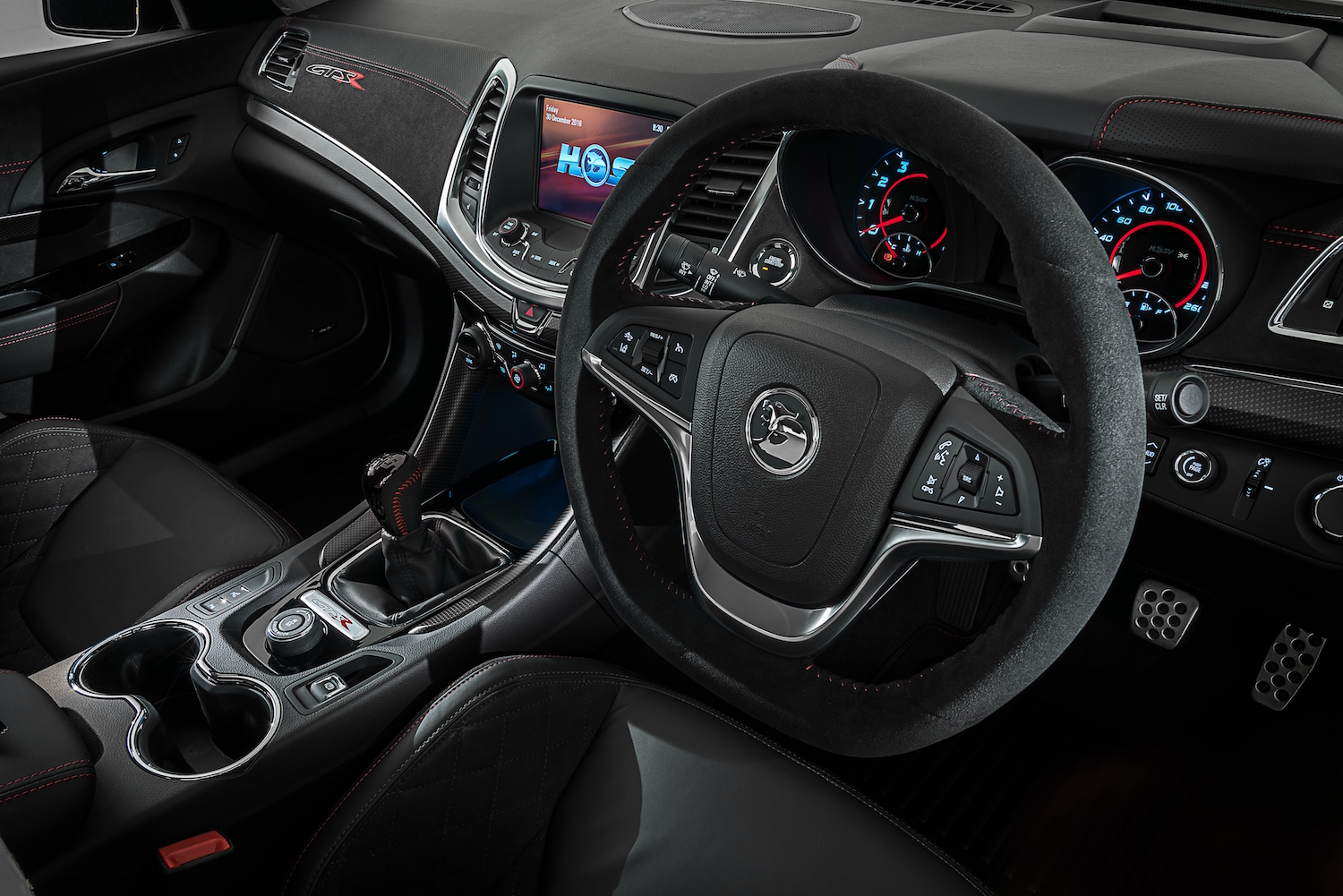 The Entertainment
This echelon of comfort and control delivered in the lap of luxury can only be further enhanced by the accessible entertainment. OH YES, it is exceptional too. Touch screen display, embedded apps and driver interface doesn't begin to describe it. Check this out- it has USB input with Siri, full iPod integration and voice control to get the most out of the 9 speaker BOSE system.
All of the information above is a plus, but what people are really interested in is the powerful hand built engine and what it brings to the table.
The Works
The engine is a supercharged 6.2 litre V8 alloy with twin rotors that deliver 2.3 litres of revolution. It has a centre feed fuel system and an integrated air to liquid intercooler with a carbon fibre airbox. This airbox allows for vigorous air intake which is further accelerated by the air flow detector. Increased air flow means higher pressure and colder air resulting in elevated power and torque performance. The air flow detector reduces energy loss to a minimum too.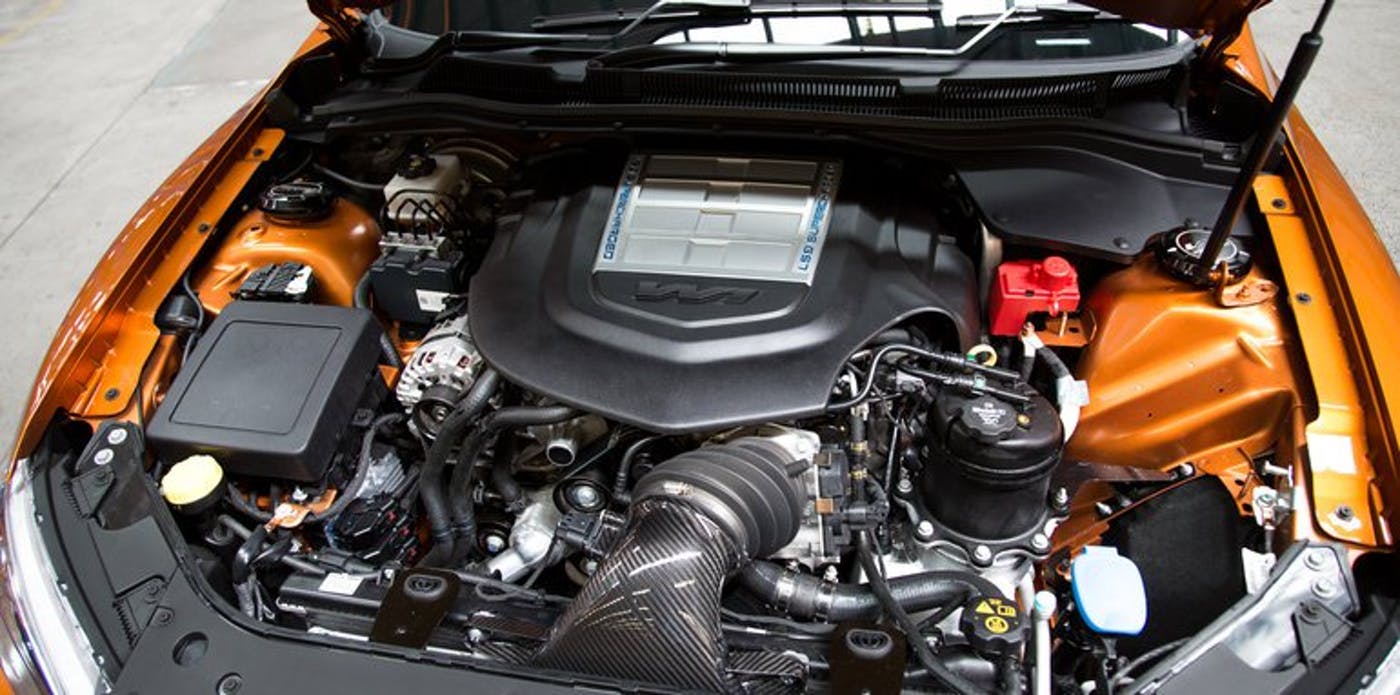 The stainless steel headers with a ceramic coating have catalytic converters integrated into the system. The final numbers are impressive with a capacity of 6162, power 474 kw at 6500 rpm and torque 815 Nm at 3900 rpm. Yep, this is a driving force.
Now just to dress it up a bit more, they employed a Tremec TR-6060 (MH3 spec.) 6-speed close ratio manual transmission to handle all that muscle. The gear ratios intensify track performance. The power steering ensures a circle of 11.4 cm kerb to kerb, and the suspension is unmatched. One might be concerned about stopping a power hog like this, but all that is taken care of with the forged AP monoblock racing calipers and 410mm front rotors. That's strong enough to stop anything that moves.
Looking at it, touching it or just reading about it is simply a tease. Until the ignition button is pushed and the engines passion is kindled …well words are not enough, and yes it is street legal!
——————————————————————————————————————-
Detail Evolution offers their clients a whole new level of auto detailing. We take your prized possession and make it a showstopper. We will exceed your expectations every time we stop by. Our  knowledge of best products and prime applications are unmatched, our prices are competitive and best of all, we come to you.